I remember driving down the hill for the first time, filled with excitement to start my new position as the Educator and Naturalist Intern at Constitution Marsh Audubon Center and Sanctuary. An Audubon Important Bird Area, and part of the National Audubon Society, Constitution Marsh follows the mission to protect birds and the places they need, today and tomorrow. I was eager to contibute to this mission through traveling to local schools to teach about birds and the environment, leading bird-friendly programing, and helping maintain this natural area.
As I rolled down the gravel hill, I saw the city-like structure of West Point towering over the Hudson River, which blended into a second body of water that was fed by a brook to my left. The two forms of water were only separated by a skinny sliver of land which was brought to my attention when a train rushed along it. There were also two small buildings at the bottom of the hill - the visitor's center and the office - and a sign with a map and bird information by the trail head.
I arrived a little early for my move-in time, so I decided to explore. I started to walk on what I found out to be the only hiking trail at the Constitution Marsh Audubon Center and Sanctuary, and with each step I took, I listened to the crunching of the frozen soil and leaves beneath my feet and the birds in the trees around me. It was the middle of January and the trees were echoing with the songs of more birds than I could count.
I stopped along the trail before the limestone rock hill and gazed on to the partially-frozen water. I took a deep breath of the fresh air and listened to the sounds of the wildlife. I felt awestruck. I was not just going to work here, but I was going to live here for the next 11 months.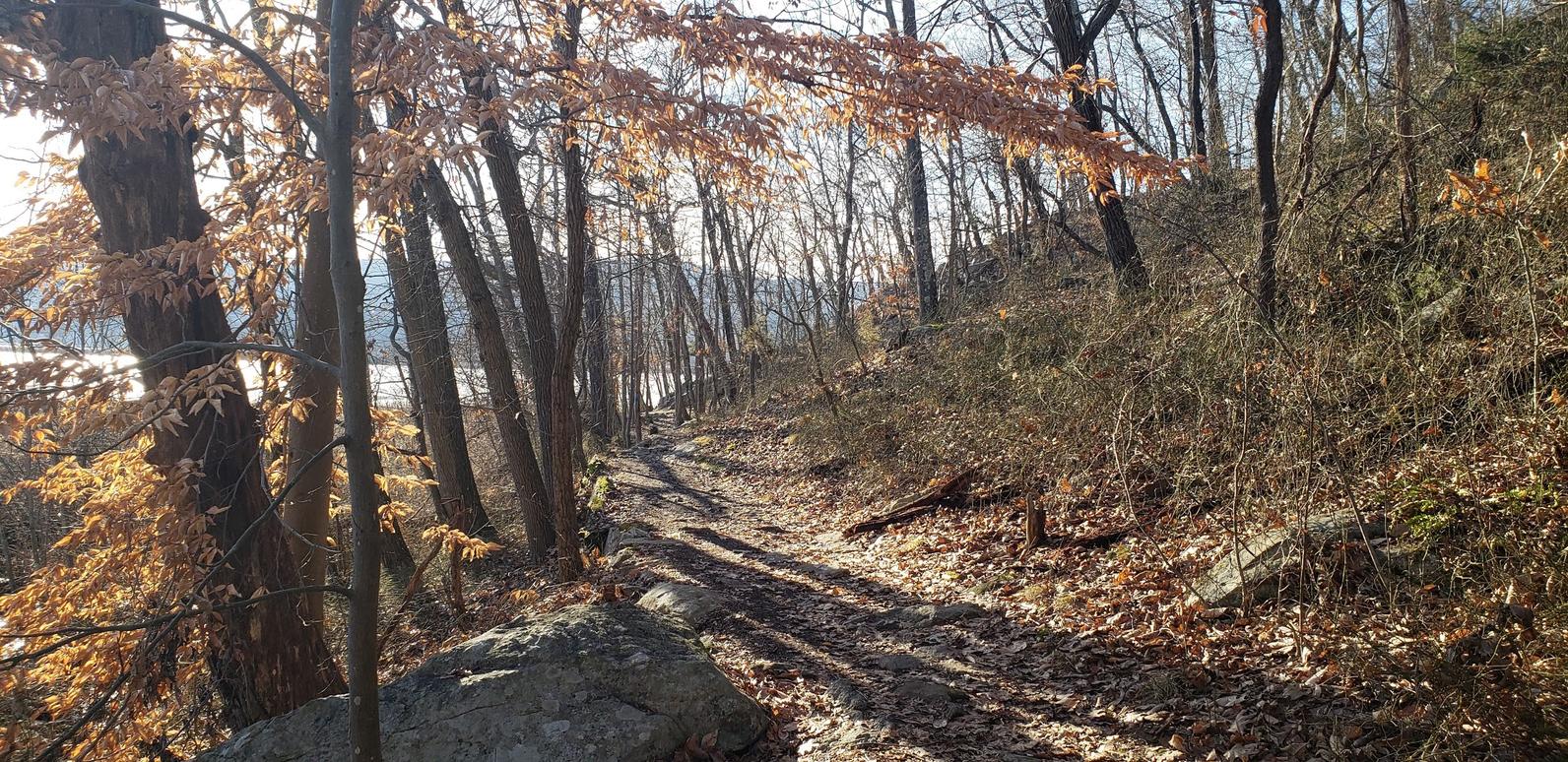 Now, I have finished my first month of this internship and I have taught four groups of students, helped lead a public program, and have spent almost every morning watching birds out my window while drinking my coffee.
While I was getting settled during this first month, I found some letters and postcards that had been left behind by Hannah Long, the Program Coordinator for Hudson Valley Corps Student Conservation Association (the organization which sponsors my internship) and a former intern of Constitution Marsh Audubon Center and Sanctuary. The letters were left by other former SCA interns to be read by their predecessor.
Finding these personal things that were left behind, especially the notes that were connected to someone who I met and knew, made me feel like I was joining a continuum of traditions held by a long line of interns. Each of us learning, forming special connections, and experiencing Constitution Marsh in our own way.
With this new perspective in mind, the word "we" has become more prominent. As I become familiar with Constitution Marsh's various programs and events, and complete each task, I recognize that these moments are things that we, Constitution Marsh Audubon Center and Sanctuary, do every year and that we, the SCA interns, get to partake in every year. I see myself filling-in the shoes that were left behind for me. Like the interns before me, I am guided into the role of environmental educator by Rebecca Schultz, education manager of Constitution Marsh Audubon Center and Sanctuary, as well as the position of environmental steward with the help of David Decker, Land Steward.
Within my new position, I have learned how to care for the environment and wetland ecosystem of Constitution Marsh and I gained the skill of being the right amount silly and engaging to pass on this information to visitors and school groups – no matter the audience's age. Adults can be amazed by the same information and observations as children. I witnessed this when I assisted in leading a guided hike in search of Bald Eagles. Though the audience ranged from young children to seniors, they all were curious about the same things and they all went home knowing more about Bald Eagles then they did when they arrived.
The intersection of stewardship and education is not just the position description of this internship, but also the set of skills and tasks that I'm learning to pass on to others to do for the sake of conservation. So as I grow within this role, and my stewardship and education skills become more refined, I realize that my time taking part in the traditions of interns and workers of Constitution Marsh Audubon Center and Sanctuary is limited. I have already finished one month out of eleven.
So I relish every bird song, indulge in every visitor's curiousness, and cherish every sunset to get the most out of opportunities that were left to me.